<!......content-left-wrap-start....>
<!......Website Develoment-start....>
Enquiry Management System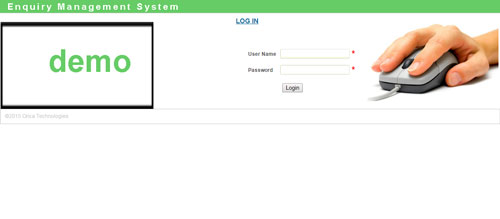 User creation

Screen to enter and maintain employee details

User Management

Screen to update user password reset etc. This screen will also give options to manage screen level permission of a user.

Stage 1 - Pre-Sales

Potential Customer Registration

Screen to register the Potential Customer accepting all the required details. This is done by a user or Admin

Assign Potential Customer
to Employee

Screen used by Admin to assign each Potential Customer to the employee/user for further follow-up

Potential Customer Search(FULL)

The list which shows all the details of the Potential Customers. The users will see only those assigned to them. Admin can see all the Potential Customers.

Potential Customer Communication

Screen to log all the interactions with the Potential Customer. enquiring about the work opportunity, informing the executive's site visit schedule, enquiring the status etc.

Customer status

Screen to capture business category of a particular customer.


<!......testmonials-start....> <!.....testmonials-wrap-start....> <!.....testmonials-wrap-end....> <!......testmonials-end....>
<!......content-right-wrap-end....>
List of Potential Customer

Report which shows the Potential Customer list based on various criteria such as, site visit scheduled, location, etc.

Performance of Users

Report for Admin which shows the statistics of the users/employees. Showing how many calls attended, handled how many Customers, how many scheduled for site visit.

 Item master

Screen to create item master and capture its price details

Send Profile

Option to email profile from the system

Technical Support Management System

Capturing Selling details

 Billing details

Screen to capture  Billing details such as Bill No., item details, warranty details, etc

Post-Sales

General function:

Screen to capture  support information, Generate ticket number
, Generate mail, Generate SMS and View/submit/Assign/Open/Close a message

Admin side

Register Customer, Register Engineer, Generate/ reset password, View/submit message, Assign/Re-Assign message, View/ change ticket status - open/close, Receive SMS, Define Customer Service/product support  (warranty, AMC) validity details, Search Service / product support expiry details, Send Service / product support renewal alert through email/ SMS

Engineer side

Engineer login screen, Reset password, View/submit message, View/ change corresponding ticket status - open/close, View open/ close corresponding tickets, Receive SMS, View Service / product support expiry  (warranty, AMC) details of a particular customer

Customer side

Customer login screen , Reset password, View/submit message, Receive SMS, View Service / product support expiry (warranty, AMC) details of that particular customer

Reports

Details of supports between a particular date range attended by Engineer/ from a customer, details of spare parts used, etc

Alerts
Generate SMS/emails alerts for service renewals
<!......content-wrap-end....> <!......footer-wrap-start....>